Severo Ochoa conference – Reunión Anual 2019: Biosketchs Guadalupe Sabio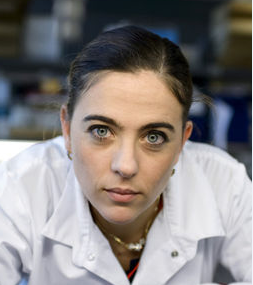 Guadalupe Sabio graduated from the School of Veterinary Medicine at the Universidad de Extremadura in 2000. Her PhD, under the direction of Dr. Ana Cuenda, was conducted both at the Universidad de Extremadura and at the MRC Protein Phosphorylation Unit in Dundee, UK. Her thesis work demonstrated the redundant function of p38-gamma and p38 delta, and showed that both kinases can phosphorylate SAP97 and SAP90.
For her postdoc Guadalupe moved to the University of Massachusetts Medical School (Worcester, MA), to work with Dr. Roger Davis. Her work in this period focused on the tissue-specific roles of JNK1, using mice with conditional deletion of JNK1 in different tissues. Through this work she was able to make important contributions to the understanding of the tissue-specific roles of JNK1 and its implication in the pathogenesis of type II diabetes.
Guadalupe returned to Spain in 2009 with a Ramón y Cajal contract to study diseases associated with obesity (diabetes, cardiovascular disease and cancer). She joined the CNIC in 2011.
Her work was internationally recognized with an ERCSt grant and three grants from the European Foundation for the Study of Diabetes (EFSD). Right now, she works in the role of stress kinases in the development of metabolic diseases and cancer trying to understand the network of this pathway. Recently she published a manuscript describing the role of p38g in liver cancer Nature 2019. Her research has received already very important awards as Loreal- Unesco Spain. 2010; and Principe de Girona 2012 award of Science, and the star of Madrid. She has also been awarded by the Spanish Society of Biochemistry and Molecular Biology (SEBBM) 2016. Recently she was honor as an EMBO Young Investigator, and two award for her research Astra Zeneca young investigator 2018, Jesus Serra award 2018.