100 years of the birth of Hermann Niemeyer, creator of the society for Biochemistry and Molecular Biology of Chile
National award of science 1983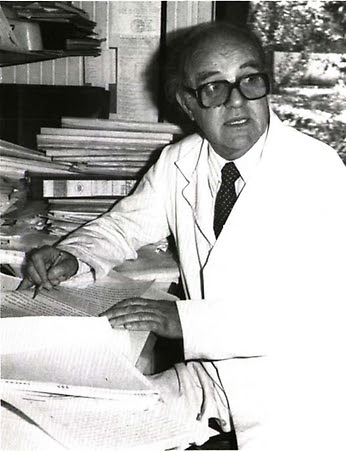 He was born on October 26, 1918 in Ovalle and died on June 7, 1991 in Santiago.
He joined the Faculty of Medicine of the University of Chile the year 1935 and graduated in 1943. His thesis was entitled "Contribution to the study of the metabolism of the liver cell". While I was a student, he joined the Institute for physiological and pathological chemistry which in those years was led by Eduardo Cruz-Coke.
He was a fellow of the Guggenheim Foundation (1949) in the the Department of biochemistry of Harvard University in the United States where she worked with A. Baird Hastings and Fritz Lipmann (Nobel Prize).
He also received a Rockefeller scholarship (1957-1958) in McArdle Memorial Laboratory at the University of Wisconsin.
His academic career started in 1938 when he was Assistant - student. I would later perform classes in the faculties of medicine, livestock Sciences and veterinary medicine and science. It also made teaching in the school of Medicine of the University Puerto Rico.
In 1952 received, together withJuly Meneghello, the Nestlé Prize for his work in child malnutrition. In 1962 Premio Atenea, Universidad de Concepción was distinguished by its text "Biochemistry".
He was Dean of the Faculty of Sciences between the years 1973 and 1975.
In 1990, he was awarded the medal Rector Juvenal Hernandez Jaque.
About the national award
In 1983 he was awarded with this contribution for his contribution to the advancement of Biochemistry in the fields of bioenergetics; carbohydrate metabolism; metabolic regulation of enzymes, particularly the study of the liver cell metabolism; and for your concern for the establishment and development of the programs of undergraduate and graduate in biochemistry in Chile.