Fondecyt Regular competition will finance 518 research projects
In comparison to the 2017 call, this year increased the number of proposals adopted at other than the metropolitan regions.
The National Commission for scientific and technological research,CONICYT, through theFondecyt program, delivered the award results of thecall 2018 of the Regular contest, which will provide financing for the period 2018-2021, to518 initiatives by the amount of Thch$ 77.993.192.
Of them,215 will be executed in other than the metropolitan regionsrepresented 41.5% of the total number of approved projects. These will be distributed, mainly in the regions of Valparaiso (67), of the Biobío (42), Araucanía (24), rivers (22) and Maule (19). This year, the regions of Atacama and Libertador General Bernardo O'Higgins did not achieve representation among the tendered projects. For its part, the Metropolitan Region continues to be it with highest number of approved projects (303), representing 48.5 percent of the total awarded.
The call also showed an increase in the total number of contested proposals.
Subject areas
With respect to the distribution of projects by disciplines, inNatural sciences and exact approved 201 initiativesrepresenting 38.8% of the total number of awards. The areas with the largest number of approvals are, respectively: Math with 43; Chemistry with 38; 1 biology and biology 3 with 23 proposals each. They represent 24.4% of the total approved in this competition.
InTechnologies, area in which it is approved136 projects, include: 2 Engineering with 34, 22 Agronomy and medicine G1 (SC. biomedical) with 20 initiatives. These are equivalent to 14.7% of the total number of approved proposals.
InSocial Sciences and Humanitiesthey were selected181 projectsrepresenting 34.9 percent of the total figure. The 31 projects approved in education, is followed by legal sciences with 30 and Sociology with 24.
Institutions
Reviewing the results by institution, it should be note that the 97.1% (503) of the total of approved projects corresponds to researchers conducting research at public and private universities. The houses of studies that reached the highest number of awarded initiatives were the Pontifical Catholic University of Chile (98), University of Chile (88), Pontificia Universidad Católica de Valparaíso (30), the University of Concepción (30), the University of Santiago de Compostela (27) and the Universidad Andrés Bello (25), representing 57.5% of the total.
In the category other institutions, were awarded 15 projects, equivalent to 2.9 per cent.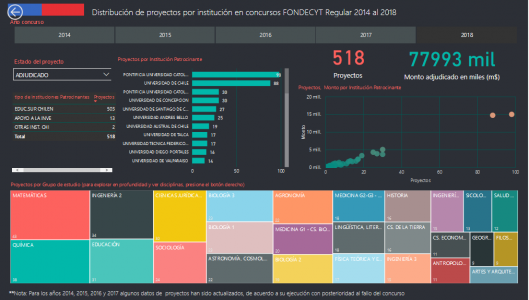 Check the new interactive picture of statistics.
Genus
This year they competed 516 projects led by women, of whom 124 were approved (24%). Between those led by men, of the 1.386 processed were awarded 394 which is equivalent to a rate of 28.4% approval.
Results contest Fondecyt Regular 2018