Dr. Carlos George-Nascimento commemorating 60 years of career biochemistry
The prominent biochemist, Dr. Carlos George-Nascimento gave a lecture entitled"Nearly five decades navigating as biochemist"in the context of the activities of celebration of the 60 years of the career of biochemistry.
Dr. George-Nascimento made a historical account of his life linked to biochemistry, from its beginnings as thesis of doctor Osvaldo Cori and his subsequent performance in United States. Particular emphasis put on experience gained together with Dr. Pablo Valenzuela in the development of biotechnology.
Similarly, the leading Professor encouraged strongly biochemist students live this science with passion and find creative new niches of science and biotechnology development.
Direction of Extension, 1 ° of April 2017.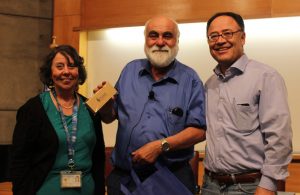 In the picture with the teacher María Antonieta Valenzuela and Prof. Dante Miranda.