Reunión Anual 2021


The Annual Meeting of the Society for Biochemistry and Molecular Biology of Chile 2021 will take place from June to December 2021.
Four events are considered: The "Kick Off", the "Mid year Touchpoint" , the "SBBM Week" and the "Annual Wrap up". The program considers Conferences, Symposia as well as Communication Works in oral and poster format. Most of the events will beperformed as webinars.
Attendance to our Annual Meeting will not have a monetary cost, which will allow the participation of all of you and your research groups. For attendance to the Annual Meeting, please fill in your personal details below.
Book your schedule for participation and invite your collaborators to participate actively!!!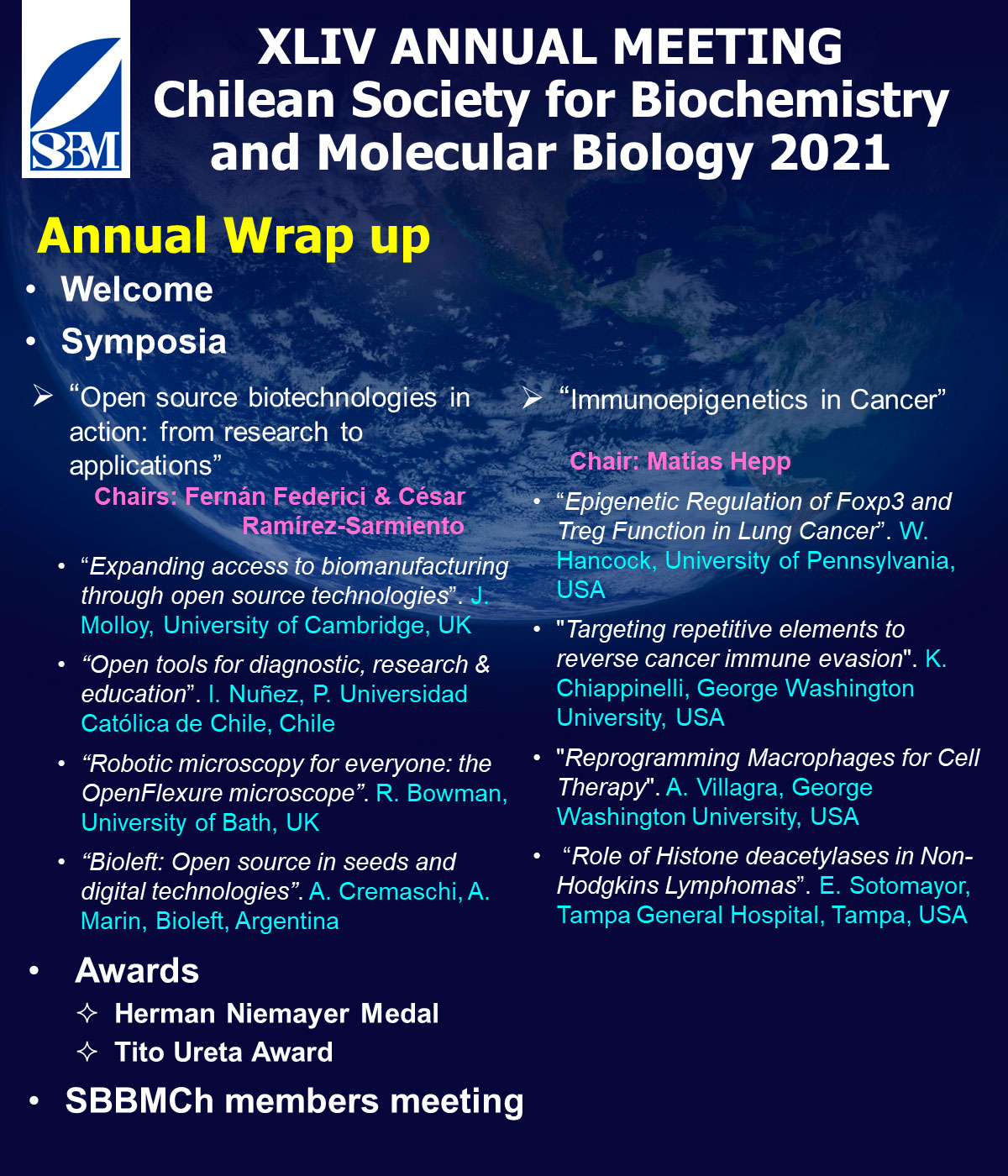 Program «Annual Wrap-Up» Friday, December 10th
15:00 h Welcome at https://us02web.zoom.us/j/81607825394
15:15 – 17:15 h Symposia
Symposium "Open Source Biotechnologies in Action: from research to applications"; Chairs: Cesar A. Ramirez-Sarmiento & Fernán Federici at https://us02web.zoom.us/j/81607825394
Symposium "Inmunoepigenetics in Cancer"; Chair: Matías Hepp at https://us02web.zoom.us/webinar/register/WN_e_7GlnhcTmiIxx-me3K5Nw
17:15 – 17:30 h Virtual Coffee
17:30 – 18:30 h Awards and closing words at https://us02web.zoom.us/j/81607825394
17:30 Hermann Niemeyer Medal
17:55 Tito Ureta Award
18:20 XLIV Annual Meeting Closing Words
18:30 – 19:30 h SBBMCh Members Meeting at https://us02web.zoom.us/j/87836758416?pwd=YjNobVZib0srUEJ1ZkN6Z2tLcVJHUT09
ID de reunión: 878 3675 8416
Código de acceso: 958925
---
On octuber we will travel to a Virtual Conference Center for celebrating the «SBBM Week» (See the video)
---
Schedule
---