281 researchers carried out his postdoctoral researchers funded by Fondecyt
141 projects in exact and natural sciences, 77 in technologies and 63 in social sciences and humanities were selected. The award rate stood at 38.1%, 5.6% higher than the 2017 competition.
TheTop tipsof theNational Fund for scientific and technological development,Fondecyt, announced the award of 281 new projects of postdoctoral fellow, with a total amount of funding committed by M$ 21.688.839.
"Support the productivity and leadership of researchers who are in the initial stage of his scientific career is essential for science and technology continue impacting on society. This is an essential part of the Mission of Fondecyt and CONICYT. "Therefore, this past year we have strengthened the instruments aimed at researchers more young people", saidAlejandra Vidales, Program Directorwho also noted that this year the bankruptcy process was developed within the dates involved.
Of the total of awarded projects,117 initiatives were presented by women, which is equivalent to a41.6%; and164 by men, representing a58.4%. Particularly notable Award (out of the total of tendered projects) rate is slightly higher in women (38.2%) than in men (38%).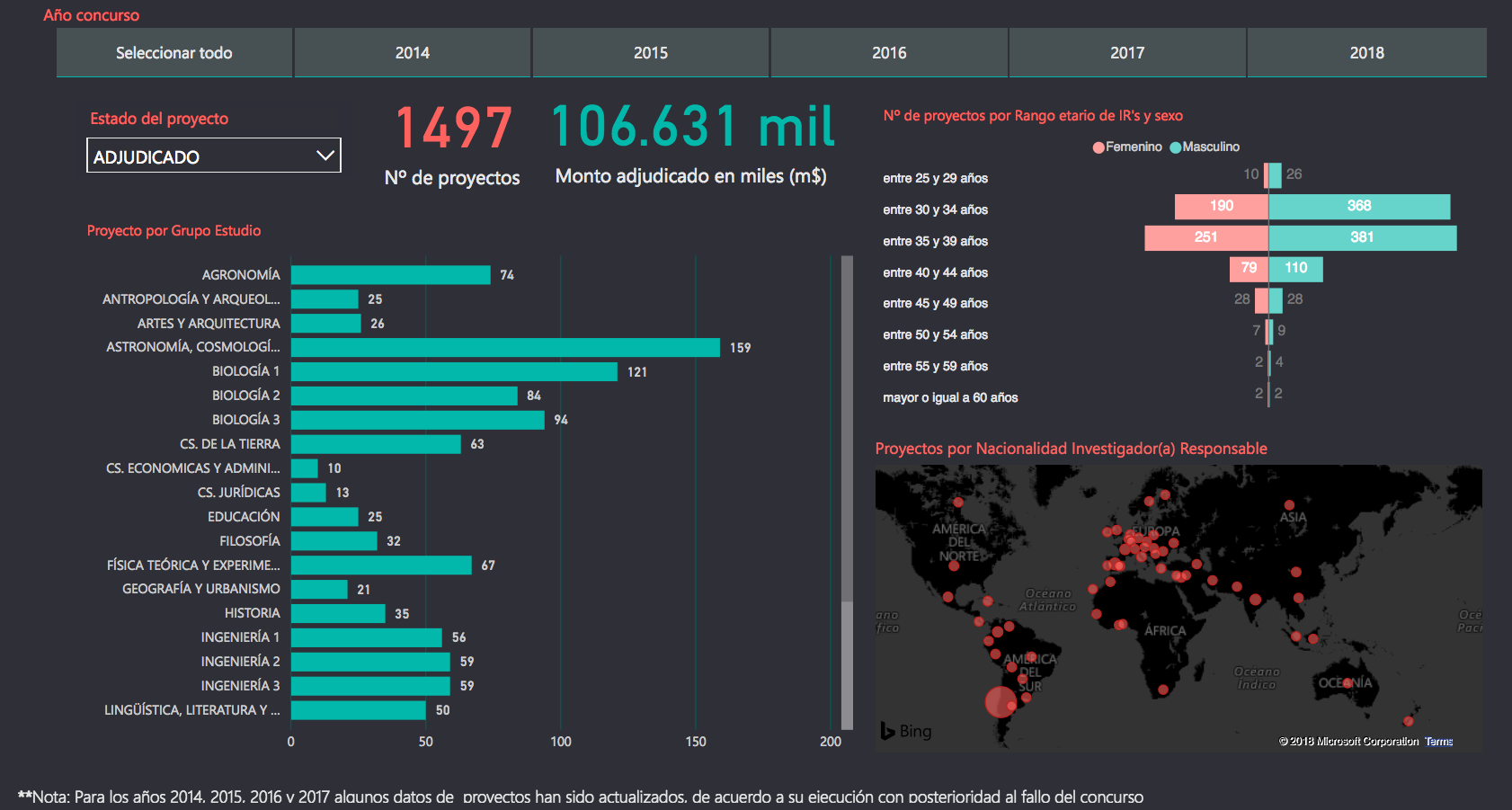 Check the new interactive picture of statisticsaquí.
Areas and disciplines
In the area ofExact sciences was approved 141 projects (50.2%)including the awarding of 27 projects in Chemistry (9.6%); Astronomy, cosmology and particles with 26 (9.3%) and biology 1 with 23 (8.2%).
In the area ofTechnologies were selected 77 new initiativesrepresenting 27.4% of the total. Study groups with the largest number of approved projects include engineering 3 with 15 (5.3%); 13 Agronomy (4.6%) and engineering 2 with 10 proposals (3.6%).
In the area ofSocial Sciences and Humanities 63 projects approved (22.4%). The Group of study of Linguistics, literature and Philology leading with 11 proposals (3.9%); Philosophy with nine (3.2); History, arts, and architecture with eight each (2.8%).
Houses of studies and institutes
With respect to the awarding of the contest by institutions sponsors, shown that the University of Chile approved 57 projects (20.3%); the Pontificia Universidad Católica of Chile 50 (17.8%); the University of Concepcion 22 (7.8%); the University of Santiago de 17 Chile (6%); the University Andres Bello 16 (5.7%); the University Católica de Valparaíso 14 (5.0%); and the Universidad de La Frontera and the Universidad Austral 13 projects each (4.6%).
The Institute of agricultural research (INIA) awarded two projects; the Millennium Institute of Oceanography and the national service of geology and mining (Sernageomin) an each. Insofar as, centers as Foundation Science & life and the center of studies scientists of Valdivia, also was awarded a project each one.
Postdoc projects
The projects have a duration of two or three years and the researcher must have exclusive dedication to execution.
The aim of this competition is to stimulate productivity and future scientific leadership of young researchers with academic degree of Doctor, conducting research with a view to their employment in academia or other, to through its incorporation into consolidated research groups that will contribute to its scientific development and which in turn, will be strengthened by their participation.
Proposals assigned fees and health benefit to researchers, who can apply for in their application, resources to finance domestic travel and foreign, operating expenses and expenses of installation, if applicable.
The starting date of the projects is theMarch 15, 2018.
Check the results and official statistics of the contest
–List of approved projects
–Projects and total resources allocated by institution
–Projects and total resources allocated by discipline
–Projects and total resources allocated by discipline and gender
–Projects and total resources allocated by Region
Waiting list:In the event that a researcher renounced the award, shall take effect the waiting by study group according to the designated order list, whichIt is valid until 13 April 2018.
–Payroll waiting list

Notification of results:Feedback letters will be sent to the researchers the week of March 05, 2018.
Signing of agreement:Financing agreements will be sent to the institutions sponsors the week of March 5, 2018, who will be responsible for contacting researchers to conclude the signing of the respective documents.
See instructions for signing agreements and transfer of resources: