Scholarship assistance to events and short courses for PhD students - call 2015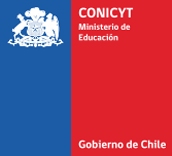 SCHOLARSHIP ASSISTANCE TO EVENTS AND SHORT COURSES FOR STUDENTS - CALL 2015
Opening of nomination period and publication of databases: Tuesday, June 9, 2015.
Close of nominations (online or paper): Tuesday 7 July 2015, 14:00 hrs. (Chilean continental time).
Consultations via platform OIRS: until the day Friday, June 30 2015, at 14:00 (Chilean continental time). After this date and time, queries received from the / in response, the applicant will receive a message which will indicate that the period of consultation of the present contest has ended.
You can apply to those who comply with the following requirements:
Be a regular student of an accredited doctoral program in compliance with provisions of the law No. 20.129. The doctoral program must be accredited at the time of bid closing.
Be accepted / definitively or in process of nomination to the short course or event. For attending events, presentations may be oral or poster.
The event or short course should develop between 01 June 2015 and June 30, 2016.
BASES: http://www.conicyt.cl/becas-conicyt/files/2015/06/Bases-Beca-Eventos-y-Cursos