Cycle of conferences: "Chile and Chileans: reflections on 200 years of independence"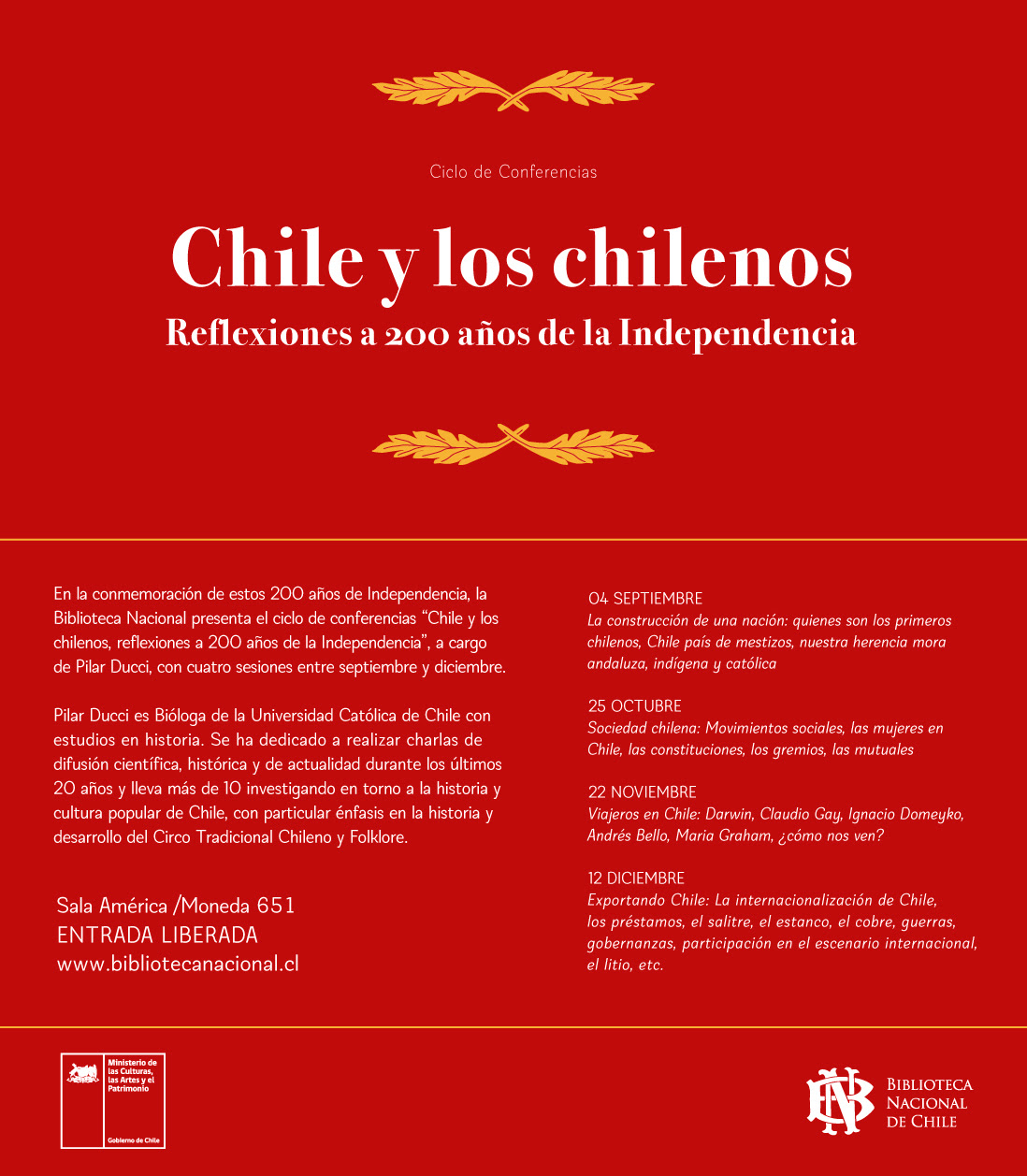 En la conmemoración de estos 200 años de independencia, la Biblioteca Nacional presenta el ciclo de conferencias "Chile y los chilenos, reflexiones a 200 años de la independencia", a cargo de Pilar Ducci, con cuatro sesiones entre septiembre y diciembre.
QUIÉN ES
Pilar Ducci es bióloga de la Pontificia Universidad Católica de Chile con estudios en historia. Se ha dedicado a realizar charlas de difusión científica, histórica y de actualidad durante los últimos 20 años y lleva más de 10 invesitgando en torno a la historia y cultura popular de Chile, con particular énfasis en la historia y desarrollo del Circo tradicional chileno y folklore.
FECHAS
4 septiembre – La construcción de una nación:Quienes son los primeros chilenos, Chile país de mestizos, nuestra herencia mora andaluza, indígena y católica.
25 octubre – Sociedad chilena:Movimientos sociales, las mujeres en Chile, las constituciones, los gremios, las mutuales.
22 de noviembre – Viajeros en Chile: Darwin, Claudio Gay, Ignacio Domeyko, Andrés Bello, Maria Graham, ¿cómo nos ven?
12 de diciembre – Exportando Chile: La internacionalización de Chile, los préstamos, el salitre, el estanco, el cobre, guerras, gobernanzas, participación en el escenario internacional, el litio, etc.
Todas las fechas serán a las 19:00 horas en la sala América de la Biblioteca Nacional, y la entrada es liberada.