Chilean scientist becomes the first foreigner to be full member of the Royal Academy of Sciences of Belgium
On October 5, the Chilean researcher Maximiliano Figueroa will be instituted as the first foreign professor at the Royal Academy of Sciences, Letters and Fine Arts of Belgium.
TheRoyal Academy of Sciences, Letters and Fine Arts of Belgiumit is an institution with more than 250 years of history and is now led by King Philip of Belgium.
It was created in 1769. Your goal? Promote intellectual life and stimulate scientific research in the French language. It currently brings together about400 senior scientific, intellectual and artistic personalities; all who must be rigorously selected to be appointed full members.
Thenext Saturday, October 5,this academy will live a historical fact. For the first time un foreigner will be instituted as professor of science. Who? Maximiliano Figueroa (39), PhD in Biological Sciences and Professor in the Department of Biochemistry and Molecular Biology at the Faculty of Biological Sciences of the University of Concepción.
That day, the investigator will be vested as "Member of the Chair of the French-speaking World" at a ceremony to be held at the Palace of the Academies in Brussels.
"I lived for six years in Belgium, where I had the opportunity to make someoutreach activities, participate in academic events, in the realization of scientific articles, the organization of scientific events and, well, I maintain collaboration with them", notes Figueroa.
From Belgium, theDr. Jean-Marie Fr.re, director of the Classes des Sciences,to which Maximiliano Figueroa will join, notes that the teacher of the UdeC "has been chosen for his excellent curriculum vitae, for his existing ties with the Université de Liége (Ulyge), where he spent many years as a researcher at the postdoctoral level, and for his good knowledge of French."
In addition, the Chilean's ties after his time in Belgium, where the scientist continued his collaboration with the professorAndré Matagne, from the Protein Engineering Center of the Uliége.
This recognition is the highest that this academy can deliver to a foreigner and is also the first time it has been delivered.
Figueroa's work consists of researchingstructures and protein functionas artificial models, the same area of research for which it became known in Belgium between 2010 and 2016 when he completed his two postdoctoral studies. "I think that's why they thought of me, they based on my résumé, my previous experience in Belgium and mastery of the French language," he says.
"In my UdeC lab I continue to work ondesign and characterization of artificial proteins. We create proteins that do not exist in nature with the aim of using it as tools that allow to explain the function in natural protenins and for the design of proteins for biotechnology purposes", notes Figueroa.
Added to this is the study of the natural proteins involved in the process of embryotic development and release of neurotransmitters in adutlos and proteins that are involved in photosynthetic processes in seaweed.
As of this week, Figueroa has an office and laboratory inCentre for Protein Engineering, University of Liege, Belgium. One of the objectives of its incorporation is to extend the use and knowledge of science in the French language. "In the sciences the important language is English, but since French is one of the official languages of Belgium, they want to give it to extend knowledge to the French-speaking Belgian community through their own bond that is the language," he explains.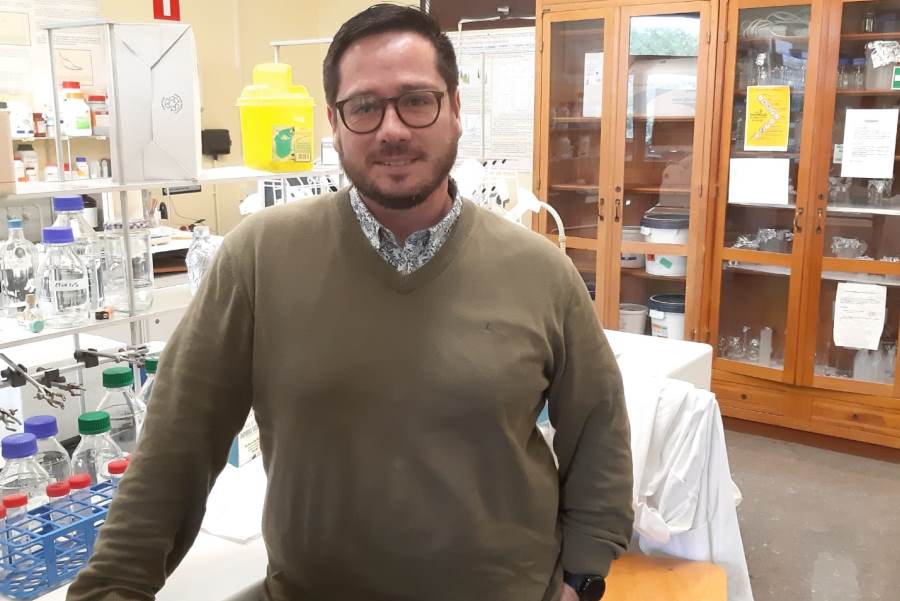 Among the activities of the new Professor of the Royal Belgian Academy, a general conference cycle entitled "L'Ingénierie des Protéines et la conception de protéines artificielles" is considered, where he will address various aspects of engineering protein.
There will be six exhibitions open to the non-specialized community, where teachers from Belgium and France are also invited. "In particular, I will talk about proteins, what they are, what they are for, how they are studied etc; a second talk has to do with artificial proteins, what have a greater relationship with my scientific work and the other talks will be on characterization of proteins, catalytic antibodies and other more specialized things," Figueroa said.
In addition, the academic UdeC will participate in a scientific project in theCentre for Protein Engineering, University of Liege, Belgium, which shall be aimed at characterizing artificial proteins at the biophysical and structural level by means of the X-ray diffraction method.