Gabriel Leon talks about her successful Pop science book: "the best lesson is that a public interested in science there is"
It is on sale from the end of April and in just weeks has already become a success. The launch of "Pop science" will be on Wednesday, May 24 at 19:00 in O house, Lastarria (#395 Villavicencio), Santiago.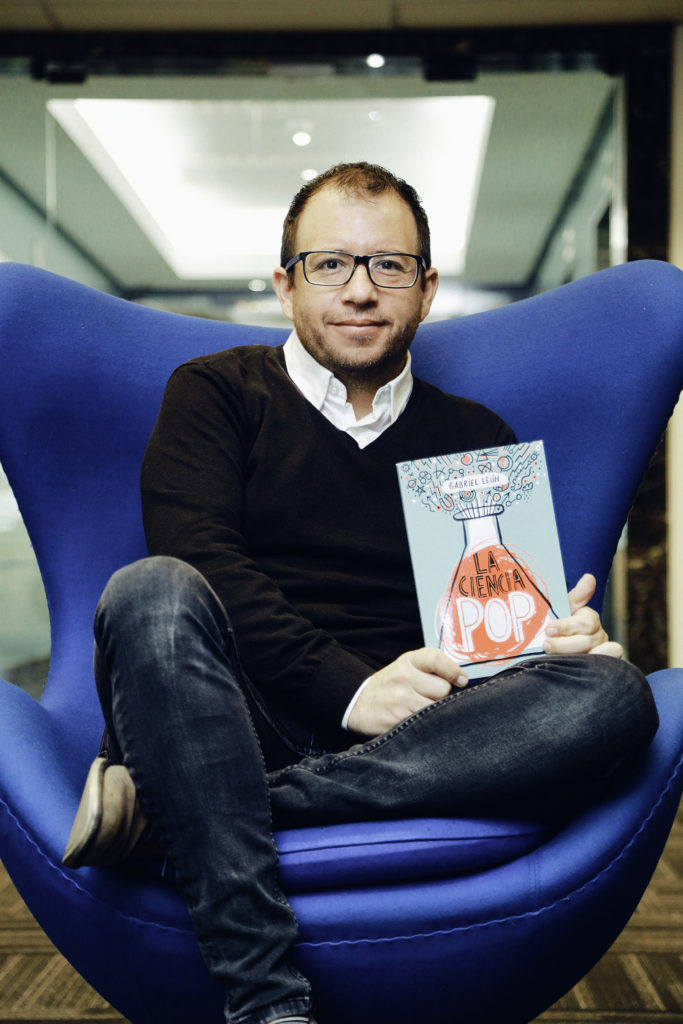 It was in April 2011 when Gabriel Leon (@GaboTuitero) published the first story on his Blog called The effect Rayleigh, a space dedicated to telling stories of science in an attractive manner and for all audiences. At that moment he never imagined that seven years later, 25 of these stories would give life to his first book "The Pop science".
With entertaining stories of science, only weeks "Pop science" has become a success of sales (entering the ranking of best-selling books of El Mercurio) and with a second edition that is already in print, confirming that science is a topic of interest to people, and sometimes what it takes is find new spaces to communicate it , as this book.
With a colorful cover and a title even more attractive, the first book of the scientist and director of the Centre for science communication of the Andrés Bello UniversityGabriel Leon, has had a positive response in the public, not only sales, but also by those who expressed their interest and liking the book through social networks.
In this interview, Gabriel Leon tells us the process that ended with the publication of his first book, its projections and the experience of being a Communicator of science in Chile.
-"Pop science" is a very attractive name, how did define this title?
"Discussed fed up with the editor because I wrote it but I can't sell books, the Publisher, Yes. At some point we think other titles, like "Stories from the side B of the science" but the editor who has more knowledge, told me that in Chile there are few books on popular science and use the word science in the title, is good. And Pop, because the idea of the book is that, to popularize science. In addition, from the hand of the book is the cover, which is super striking, fed up with colors and designed by a cartoonist that personally I like very much, Francisco Javier Olea. Then both the book and the cover get along very well".
-How can give science a touch "pop"?
"Must first be borne in mind that when communicates science one not intended that people repeat an experiment, because for that they are the" papers. You're telling science. In that sense, when you take a job and like to explain it, you can strip it of all the technicalities. Technical language in the paper It makes sense, but outside the laboratory and academic world, it has no value. The idea is to tell stories that are entertaining, because very interesting as this may be a scientific discovery, an invention or a history, one thing is that I find it funny but another, is that someone else do so. "Then it also has to do very much with the way, how account history, that is the secret".
-This book brings together several stories which was the challenge, first, to select the stories and then, give them the narrative style that you want for the book?
"There is a style that is present, which is worked. It is a story that comes from the 2011 with my blog, then I would say that the style was, since all the stories are constructed in a similar way. What was challenging was to select stories because originally there were over thirty, but the selection process was very well done, they are stories of a similar extension. "Now, they are all stories from the area of biological sciences which is my work area, I started to write of astronomy, for example, are themes that escape from what I know".
-It is your first book and it has been very successful in sales, in fact already is printed a Second Edition, how can you have lived through this process?
"It was super fun because it is also like a dream, I always liked to write. I still don't feel I writer, I am a scientist who writes, is different, nor is it a novel, is rather different then neither I am writer. But I have a book, so I am author and the truth is that I'm enjoying it, it has been very fun to go to the television or the radio to talk about the book, see it in the showcase or see people reading it feels super good, never actually saw someone read a paper mine on the street (comments by laughing) "."
-Does mark a momentous in your career as scientist and Communicator, point this book?
"I believe that it is now impossible to say because for me all of this revolves around the blog, which I started seven years ago. "But in ten years, if I new interviews, perhaps tell you that this book marked my path or the book took me here and there, but now it is difficult to know, but I think it may be the start of something fun".
-Would like to write other books?
"I would certainly love to like me to write, when I do so I can stop." I hope to have the fortune to be able to publish other books since my "Pop science" shows that there are other ways of communicating science, beyond the newspaper and the radio".
-How do see the response from the readers of your book?
"I think the best lesson is that a public interested in science there is. The other day I looked at the rankings of the most read books and we are together with José Maza, who has recently released his book ("we are star dust") then there is a niche, there is interest. "It is not true that no science, interested people probably what needs to change is the format, the way to tell science approach".
-What "Pop science" mean for you?
"You can be the first step of several interesting things and also the closure of another project, that is the blog. The beginning of something new, I do not know is what is. It is entertaining, it is as a scientific discovery, when one discovers something as you finish and look back and see everything that you progress and then look forward and there is nothing, there is uncertainty. With the book this happens to me a little, now I do not know what's next but I think that the journey will be very entertaining."