Ibero-American Aptámeros Network – REDIBA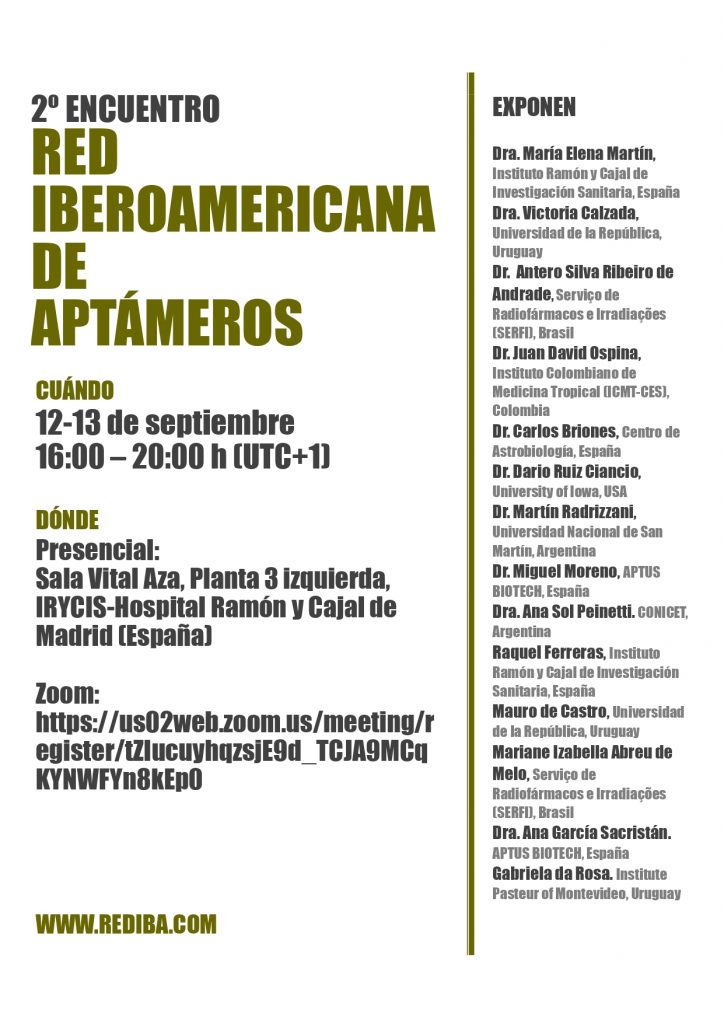 In 2019, during the XLII Annual Meeting of the SBBMCh in Iquique, the International Symposium "Aptamers as molecular tools for biomedical applications", organized by our titular partner, Dr. Julio Tapia, with the participation of scientists from Spain, Uruguay, Peru and Chile.
The Symposium in Iquique was the foundation for the creation of the Ibero-American Network of Aptamers (REDIBA), an international collaborative organization that involves groups from different countries working on the development and research of aptamers for biomedical and biotechnological applications.
Subsequently, in November 2021, REDIBA organized its First Online Meeting, which was attended by experts from Argentina, Brazil, Chile, Colombia, Spain, Mexico, Peru and Uruguay.
This year, on September 12 and 13, from 11:00 a.m. to 3:00 p.m. Chile (4:00 p.m. to 8:00 p.m. Madrid), the Second REDIBA Meeting will be held in person at the Ramón y Cajal Institute for Health Research (IRYCIS-Ramón y Cajal Hospital) in Madrid and telematically in the link that appears in the attached poster.
They are cordially tod@s invitad@s to attend this meeting of scientists who work with this biotechnological tool and its multiple applications in the area of biomedicine and biological research in general.
Download the event agenda
HERE