[row][paragraph_left]
Monitoring immune function by imaging flow cytometry – Now Complimentary on Demand

In case you missed our live, online educational seminar, "Monitoring immune function by imaging flow cytometry" we wanted to let you know that it is available in our complimentary on-demand archive.
You can access this archive to watch the webinar at any time.
For more information and access to the archive, go to:
webinar.sciencemag.org
About This Webinar
The immune system plays a critical role not only in fending off pathogen attack, but also in cancer surveillance, and more recently as a tool in immunotherapy-based treatments. Immune cell functions are tightly regulated by essential transcription factors such as NF-κB and NFAT. Monitoring immune cell activity—including phenotyping immune cell subsets, tracking cell proliferation, and measuring cytokine production—can provide insights into the overall status of immune function in patients, particularly those undergoing immunosuppression after transplants, enduring cancer treatment, or suffering from autoimmune disease or other pathologies that affect the immune system. Imaging flow cytometry (IFC) has emerged as a useful and efficient tool for studying the signaling pathways in immunophenotypically defined subpopulations of immune cells. This technique enables quantitative image analysis of the intracellular localization of the signaling intermediaries NF-κB and NFAT as parameters of immune activity. This webinar will introduce viewers to the process of using IFC to determine subcellular localization of biomarkers, including a discussion of how IFC can help to assess the activity of transcription factors, or the drug-induced stimulation or inhibition thereof, in clinical samples.
During the webinar, the viewers will:
• Learn the process of using IFC to study transcription-factor signaling
• Discover how IFC can help to determine the effects of drug inhibition or stimulation on immune function
• Gain insight into preclinical and clinical applications of IFC.
Participants:

Orla Maguire, Ph.D.
Roswell Park Cancer Institute
Buffalo, NY
Register at:
webinar.sciencemag.org
Questions? E-mail: webinar@aaas.org.
Produced by the Science/AAAS Custom Publishing Office and sponsored by MilliporeSigma.

[/paragraph_left][third_paragraph]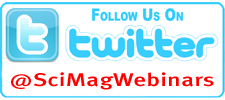 [/third_paragraph][/row]