Using CRISPR for KO and HDR, NGS detects low-frequency variants, methylene blue as redox reporter

Webinar review: You will receive expert guidance on a complete CRISPR genome editing workflow, including available tools and protocols in this webinar. Also, see what we have learned about homology-directed repair (HDR) and a new option for repair templates.
---
NGS detection of low frequency genetic variants using novel, molecular sequencing adaptors
Webinar review: Learn about unique molecular adaptors and a high-performance target capture method for NGS analysis of low frequency variants.
---
Aptamer-based electrochemical biosensors using methylene blue as a redox reporter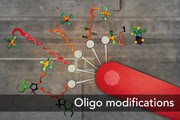 Modification highlight: Did you know that methylene blue, one of the stains commonly used in cytology, can also function as a reporter molecule in non-colorimetric assays? Read about the novel use of methylene blue in aptamer-based, electrochemical biosensors for both diagnostics and basic research applications.
---